Hi, I'm Sunay Dagli.
Welcome to my website!
About Me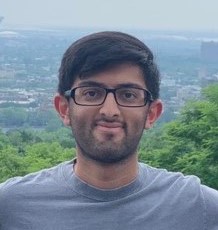 My name is Sunay Dagli and I am a junior at the University of California, Berkeley.

I am pursuing a dual-degree in Electrical Engineering & Computer Science (EECS) and Energy Engineering through the College of Engineering. I am passionate about the intersection between software development and impact-driven fields such as sustainability. To further understand how I can utilize technology, specifically software and computer engineering, to reduce major energy crises facing our world today, I am pursing the dual major.

Outside of academics, my hobbies include playing and watching basketball (Lakers 2022 Champs, of course), hiking, learning new things on Youtube, binging Netflix shows, and playing video games.

I am always looking for exciting, new opportunities, so feel free to contact me at sunaydagli@berkeley.edu or take a look at my resume.
Courses & Skills
Coursework
Skills
Languages:
Python • Java • C • SQL • HTML • CSS • JavaScript • RISCV • R • x86

Platforms/Tools:
MATLAB • Pandas • NumPy • SciPy • Flask • Simulink • GUIs • IntelliJ • Eclipse • Git • Adobe Suite • Figma • Visual Studio Code • Microsoft Office Suite • Jupyter • LaTeX • CKAN • C3 AI Suite
Projects
Masked Heroes Initiative Website HTML/CSS/Javascript
JUNE 2020 - AUGUST 2020

• Developed a functional website for the Masked Heroes Initiative not-for-profit organization using HTML, CSS, Javascript with the Bootstrap library
• Functions include a page to donate, a blog platform, and a clean interface for users to learn more about COVID-19 and why masks are essential and needed in numerous facilities


In Game Statistics Java
SEPT 2018 - APRIL 2019

• Created Java GUI using Swing for local recreation basketball leagues to determine best players and strategies to employ during season
• Users input statistics based on each player and GUI determines which players are best at specific basketball plays
• Optimized GUI for older coaches through a clean, functional, and easy to use user interface

Gitlet Java
APRIL 2020 - PRESENT

• Developed a local version control system based on the popular remote version control system, Git
• Supports main functionalities of Git, such as init, add, commit, rm, log, global-log, status, checkout, branch, reset, merge, and others • Employed serialization for file persistence
• Used file compression and SHA-1 encryption in order to ensure proper file distribution, as well as lower the space used on the system

Scheme Interpreter Python
JUNE 2020 - AUGUST 2020

• Developed an interpreter for a subset of Scheme language, the dialet of Lisp
• Completely Python based, runs with tail recursion optimization
• Supported functional programming Scheme expressions
• Based on the Python REPL environment
• Parsed tokenized Scheme commands to run in Python in order to read commands in the terminal